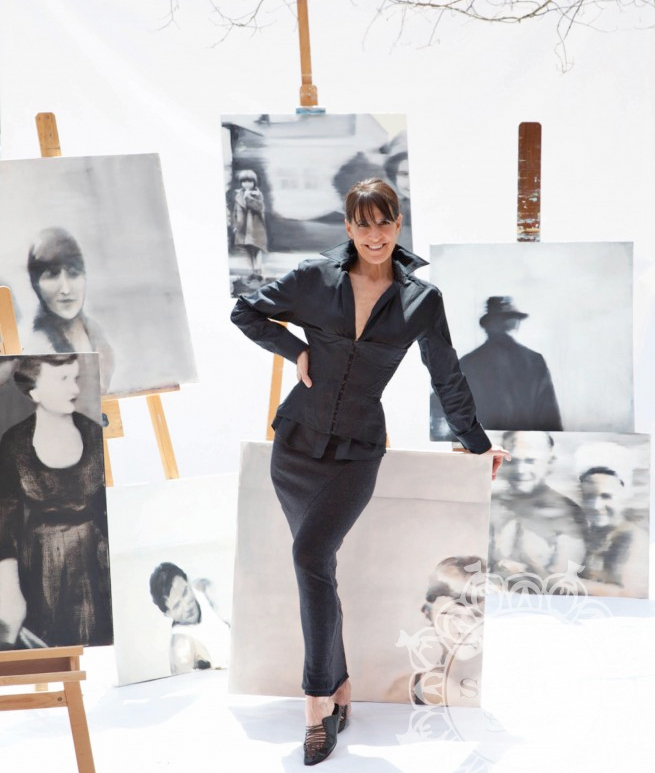 Born and raised in New York City, Shelly Safir Marolt received her BA in Theatre Arts from upstate New York's Hamilton College in 1982. After graduation, she returned to the city to live – working in the publishing and fashion industries – until one day in 1989, when she arrived at a personal crossroad:
"Standing in the middle of Times Square, a gust of wind blew a cloud of dirt and soot around me, and I thought, 'This could be snow…New York's great, but I've got to go to the mountains.'"
In 1990, she did just that, moving to Aspen, Colorado.
Upon relocating, Marolt began exploring her long-time interest in visual art, specifically painting, studying primarily at  Snowmass's  Anderson Ranch (2000-2014).
While studying at Anderson ranch, Marolt became interested in both the subject matter and techniques that shape and define her current work when she and a painting instructor began discussing Marolt's interest in using historic photographs and film as source-materials.
"The ideas for my paintings are stirred by a sense of history and nostalgia. When my Grandmother passed away we found dozens of reels of home movies, dating from 1928 – the year my father was born – to 1936. These movies were vivid narratives, and as I watched them I began to reflect on the lives of my late Grandmother, Father, and all of the other family members in these movies that have passed away."
Struck with the notion of impermanence, Marolt began the process of representing the people that shaped her life, telling both a personal as well as a collective story.
"I felt that if I did not tell their stories by painting these paintings that they would somehow be lost forever. I felt like I'd been given an opportunity to translate the stories of these people, as well as my personal history for my family, in a way that is also very universal. Painting from the movie stills also allowed me to capture a sense of motion and fleeting time, the spontaneity of living. Unlike a posed photograph, I wanted to give the sense that these images could, and did change the next moment."
This sense of time, fixed in the images, yet fleeting and inevitably lost, is also echoed in the manner in which Marolt renders figures in her paintings.
" I compose many of the paintings with the secondary figures entering or leaving the composition: sometimes waving or interacting with someone outside the frame. This adds to the idea of fixed moments in impermanent situations."
Shelly Safir Marolt currently lives with her Husband and two children in Aspen Colorado. She has studied at the National Academy School of Fine Art in New York City, as well as participating in Quebec, Canada's 2006 ICSCIS Studio Italia course. She is currently presenting  her work in a group show at the St. Regis Hotel in Aspen and paints commissions out of her studio at 420 east main street suite B20 in Aspen Colorado.